Skip to content

Original Photography and Photographic History
I have started to create zines as a way to publish more of my work. What I've found I enjoy about about process of creating a photography zine is that the whole is always greater than the sum of the parts. The activity of collating and putting together images on a theme is itself a very rewarding process.
I hope you enjoy these little photography zine publications. I have a number of Zines currently "in production" so do check back here to see what's new. My first zine was the very simple A4 sheet zine "Moments in Motherwell". I'm now working on new publications so watch this space!
Hallowzine!
Driving home one night through town I caught sight of a small dark haired figure in a white nightgown leaving a house. What on earth? or not from this earth was that? I'd seen my first ghostly apparition in the heart of the town. I was soon discover that this year there were strange things appearing in gardens and by the wayside across West Berkshire.
This little zine of 32 pages (inc the cover) is little a bit of Halloween fun. I hope you will enjoy this little book of frights and Halloween characters.
Be carful if you are out at night at Halloween!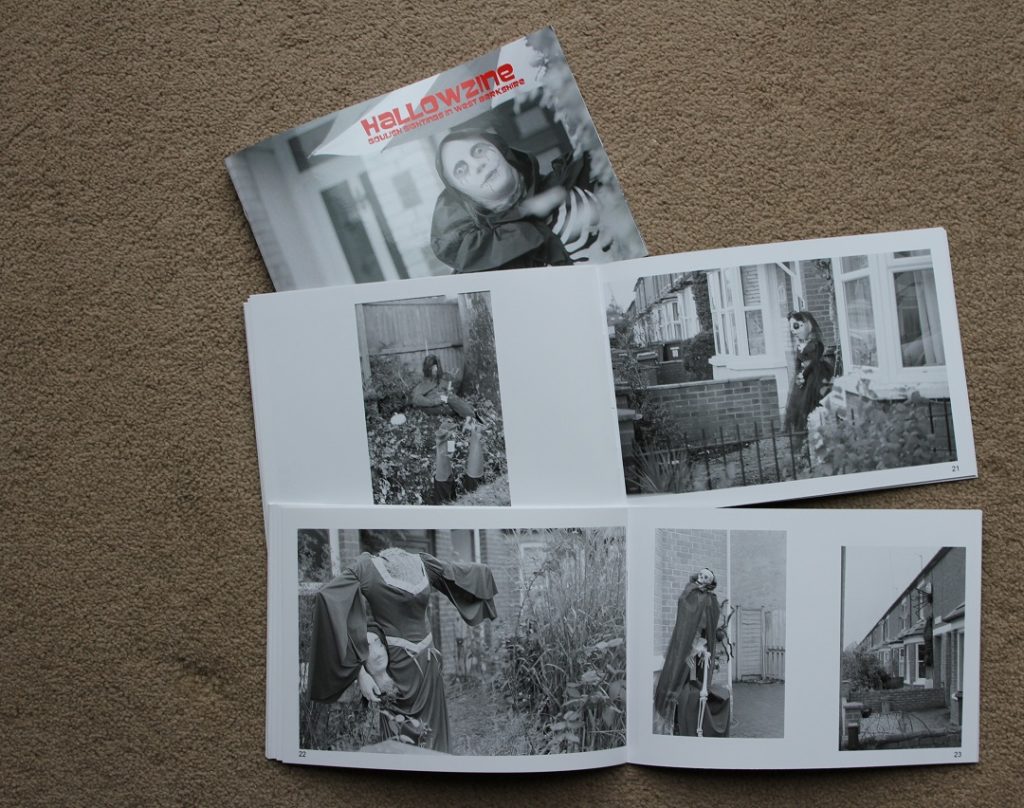 All pictures taken on 35mm film by the author. Limited edition of 50 numbered copies.
Passing Through Paddington
Now available the A5 "Passing through Paddington" is a new photography zine that captures the essence of a daily commute captured over a year of travelling through one of London great central railways stations. There are 24 (26 including the covers) full A5 page images in a spiral bound format that you can leave open on any page. Just £5 posted to any UK address.
New DIY ordering choice for Moments in Motherwell
Moments in Motherwell is a little folded A4 zine of commuting images that highlight interesting and typical views of the Scottish town of Motherwell. The collection of photographs were taken while I was working in Motherwell during the winter of 2019/2020. They are all on the route from the station to the civic offices. I wanted to try to capture something of the character of the place I was only briefly walking through. It was winter, the days short and the light often dim. I carry a 35mm Olympus Trip camera loaded with black and white film most of the time and photograph anything that I see that I find of interest.
The folded A4 sheet zine is the simplest type of zine possible based on a single page folded into a booklet. Usually I send out the zine pre-folded as a booklet but there now a new option. You can order the Zine unfolded and with a folding guide. Once you have folded your Moments in Motherwell you'll have the knowledge to quickly turn any sheet of A4 paper in to a little zine booklet. To get your copy of the zine with the guide for folding at home just chose the unfolded buying option in store.